Quick Tips for Job Hunting
It is sometimes hard for UDM students to make time to visit the library when they are job hunting.
We have a solution!  eBooks!  Available to you 24/7 anywhere your have internet access.
You can find books through our library catalog or in the eBooks databases.  You can go to the databases and sign

in, and use ebrary database or eBook Collection (EBSCOHost database).  You can search for terms likes resumes, cover letters or employment interviewing.
There is even a database Career and Job Accelerator that will help you write resumes and cover letters for specific careers, as well as live job listings.
So if it is 3:00 am, and you have until 9:00 am to prepare for tough answers to tough questions you are expecting in tomorrow's interview, we've got you covered 24/7.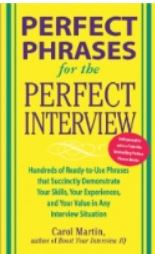 Perfect Phrases for the Perfect Interview: Hundreds of Ready-to-Use Pharases that Succinctly Demonstrate Your Skills, Your Experience and Your Value in Any Interview Situation. by Carole Martin
"In a job interview, every word counts. That's why you need to make sure you'll be prepared with exactly the right answers to any question an interviewer might throw at you. With Perfect Phrases for the Perfect Interview, you will be equipped to handle even the toughest questions. This ready reference supplies you with
The best answers to a wide range of interview questions, from icebreaker questions about experience to questions about specific skills to the dreaded "Why did you leave (or get fired from) your last job?"
Exercises and resources that help you prepare for the big day
Tips on words to avoid and on how you can convince a potential employer that you are perfect for the job"  amazon.com You must login to the eBook Collection (EBSCOhost) database to access this book from off campus.
In 101 Great Resumes, you will find the resume format that will work wonders for you, one that can showcase your uni

que background, situtation and career goals and help you land your dream job.  It features resumes tailored ot the individual situtations, challenges, and aspirations of today's job seekers.  This book can be found in the ebrary database.  You must login to the ebrary database to access this book from off campus.

Tyler's Guide to Healthcare Executive Job Search by J. Larry Tyler.
"Thirty plus years of retained executive search at the C-level and more than 3500 personal interviews have given J. Larry Tyler has a unique perspective on how to change jobs in healthcare. This fourth edition of Tyler's Guide takes you from the beginning to the end of the job change process.
Resume preparation, cover letters, networking, and interviews are handled in depth. Tyler intersperses his commentary with real-life examples of executives who have followed his advice and advanced their careers. This edition has been updated with current practices and trends that will advance the reader to the front of the line in the competitive employment marketplace."  amazon.com  You must login to the ebrary database to access this book from off campus.

Land Your Dream Career: Eleven Steps to Take in College by Tori Randolph Terhune & Betsy A. Hays 2013
"Contrary to what students, and society, are conditioned to think, obtaining a college degree does not automatically result in a job, let alone a dream career. In the last year, alone, half of college graduates are either jobless or underemployed in positions that don't fully use their skills and knowledge. Authors Tori Randolph Terhune, a gainfully-employed young college graduate herself, and Betsy A. Hays, a college professor, show readers what they can do in college to successfully pave the way for future employment"
"In Land Your Dream Career. The authors provide eleven easy-to-follow strategies for effectively using time on campus to start building a career."
"Terhune and Hays leads students through content designed to help students set themselves up for success, without focusing on grades or papers. The 11 steps include tips about how students can become experts in their fields, build their brand, get involved in and outside the classroom, allow for wiggle room, network, follow the 75/25 rule (75% thinking, 25% doing) and use new media, such as social networking and blogging, to launch their career. Any student looking for that connection from college to getting to their dream career needs to read Land Your Dream Career. Terhune and Hays make it known that landing a good job is not impossible!"  amazon.com  You must login to the ebrary database to access this book from off campus.
N. Chesik 4/2014