PubMed
PubMed is a free database created by the National Library of Medicine [NLM], a part of the National Institute of Health. It's the best place to begin a literature search on any healthcare, medicine, nursing, dentistry or basic science topic.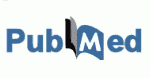 It is the broadest index of medical, science, and healthcare.  There are currently about 24 million citations from about 5,500 journals.
Here are some short tutorials about searching PubMed.
While the site is free, access to the full text of an article depends on several things: UDM subscribes to thousands of electronic journals and often there's a link at the PubMed citation directly to the article. Look for this logo in the upper right corner of a citation.

Some articles are available under the National Institute of Health Public Access Policy. Publications about research funded by an NIH grant must be freely available within 12 months. In addition, some journals offer a few articles from each issue available at no cost.
To see if UDM has online access to a journal, check here .