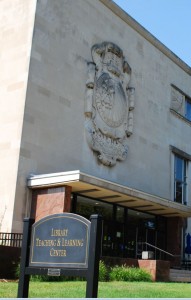 W E L C O M E  B AC K Students and Faculty!
What you need to know about the Library:
Need Help?
Stop in and see the Librarian at the Research Desk or make an appointment for more in-depth assistance.  Off campus? Use the 24/7 Ask a Librarian chat box at http://research.udmercy.edu, or call us at 313-993-1071 (McNichols Campus Library) or 313-494-6900 (Dental Library).
Need relaxation?
The McNichols Campus Library has approximately:
2300 Motion Picture DVDs and Videos
141 TV Series and shows on DVDs
300 Books on CD
1000 Music CDs (Classical, Jazz, Pop, etc.)
450 Kids Music CDs
General Information:
MOST books may be check out for 28 days. Exceptions are reference books, books from the Michigan Core Collection, books on Reserve, etc. Renew your books for another 28 days using the 14 digit number on your UDM ID card — http://catalog.dalnet.lib.mi.us/ipac20/ipac.jsp?profile=udm&menu=account&submenu=itemsout
Free Printing: 
The McNichols Campus Library provides 400 free prints in an academic year.
The Dental Library provides 500 free prints in an academic year.
Databases:
The Libraries subscribe to approximately 200 databases with over 55,000 ejournals covering all UDM disciplines, as well as over 140,000 ebooks and growing.
Interlibrary Loan:
Still can't find what you need?  Order books or articles through our Interlibrary Loan (ILL) service — http://research.udmercy.edu/find/ill/
Extended Hours for Finals
For McNichols Campus Library: http://research.udmercy.edu/about/hours/mcn.php
RefWorks:
Later this semester, look for "drop-in" classes at McNichols on using RefWorks, a research management software product that allows researchers to gather, manage, and store articles and papers as well as generate Reference or Work Cited pages.
By Sue Homant and Sandra Wilson
Librarian Consultants