Banned Books Week: Sept. 21-27, 2014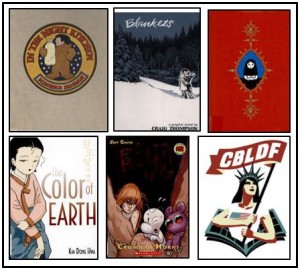 Did you know that Huckleberry Finn, Where the Wild Things Are, Captain Underpants and The Call of the Wild have all been banned or challenged at some point in schools and/or libraries?  It's not an old or isolated problem, hundreds of books are challenged throughout the U.S. every year.  Every year, Banned Books Week celebrates the freedom of all Americans to read all types of materials, regardless of whether or not the materials include controversial or unpopular viewpoints or topics.
This year, Banned Books Week will focus on banned comics and graphic novels.  Comics and graphic novels are often targeted for removal from libraries because of the mistaken belief that all comics are for children or that they do not have serious literary or artistic value.  However, several graphic novels have won critical praise and won literary awards, and play an important role in libraries, helping develop literacy skills in ESL learners, reluctant readers, and those with learning disorders.  Read more about the history of comics banning as well as relevant case law at the Comic Book Legal Defense Fund website.
Jill Spreitzer, Librarian