FROM THE RESEARCH DESK: ATLA Religion

Published by the American Theological Library Association, the ATLA Religion Database with ATLA Serials is the premier index to journal articles, book reviews, and collections of essays in all fields of religion. Most journal coverage starts from 1949 and, for others, starts as far back as the nineteenth century. ATLA contains 1,776 journal titles representing scholarship in the major religions, faiths and denominations. Subject areas include Bible, archaeology, and antiquities; human culture and society; church history, missions, and ecumenism; pastoral ministry; world religions and religious studies; theology, philosophy, and ethics.
To access ATLA Religion, go to the library portal page, research.udmercy.edu . Click on the third tab,  Articles, Journals + Databases.

Under Find databases by title, select the letter A. Scroll down to the bottom. ATLA Religion is second to last on the list.

A useful feature of this database is the Scriptures tool which takes the guesswork out of how to look up Bible chapters and verses. Click on the Scriptures heading to open a browsable list of the books of the Bible in canonical order from Genesis through Revelation.

Click any of the books to open a list of all the citations and articles about that book. Click [Expand] to narrow your search to certain chapters of the book you are interested in. Click [Expand] again to narrow your search to the verses.
Another option for locating articles on particular scripture passages is the Scripture Citation index under the Indexes heading.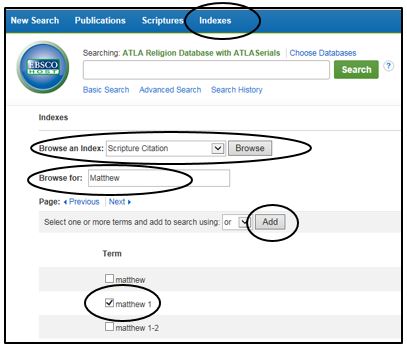 Click on Indexes in the heading and select Scripture Citation in the Browse an Index box. Enter the name of the book of the Bible you need in the Browse for box. Click Browse and a list of chapters from that book of the bible appears. Place a check mark in the box next to the chapter(s) you are interested in. Click Add and then Search to obtain all the articles and citations on that bible chapter.
Take it on faith. ATLA Religion Database with ATLA Serials is your best source for research on religion.
Contact a librarian for further information.