More Copyright Free Images
As the new school year is settling in, it won't be long before you have projects and presentations due. To spice them up you might want to add a picture or two.   To use copyright free images search some of the  websites listed below.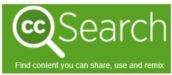 http://search.creativecommons.org has 12 websites with either images, video, or music.  However, Creative Commons cautions not to assume that all results are under the CC license umbrella.
American Memory, http://memory.loc.gov/ammem/index.html from the Library of Congress, includes historical photographs and film stills from a broad array of Americana.

Getty Open Content Program  http://www.getty.edu/about/opencontent.html  The Getty makes available, without charge, over 99,00 digital images to which the Getty holds the rights or that are in the public domain to be used for any purpose. No permission is required. However, please use the following source credit when reproducing an image: Digital image courtesy of the Getty's Open Content Program.
HathiTrust Digital Library https://www.hathitrust.org/access_use HathiTrust is a collaborative library initiative. Users are encouraged to cite and link to digital content and are free to do so without asking for permission.
Metropolitan Museum of Art  http://www.metmuseum.org/research/image-resources  See Open Access for Scholarly Content (OASC) via the Met's Website for information on public domain images.

NYPL Digital Gallery http://digitalcollections.nypl.org/ features maps, manuscripts, prints, photographs, streaming video and more.
Smithsonian Institute http://collections.si.edu/search/ You must cite the author and source of the Content as you would material from any printed work. You must also cite and link to, when possible, the SI Website as the source of the Content. See more at:http://www.si.edu/termsofuse