Scary Reading

Halloween is creeping up on us, and the UDM McNichols Campus Library has an alarming assortment of hair-raising and spine-chilling books, poems, short stories and eBooks to put you in the mood for Halloween.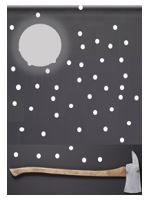 If you feel like writing papers is driving you a little crazy, pick up a copy of The Shining by Stephen King.
If working through the rest of your assignments feel like a series of trials and tribulations, read about Joseph K.'s disquieting experience in The Trial by Franz Kafka.
You can try (in vain) to escape to a quiet house in the country by reading The Haunting of Hill House by Shirley Jackson and Ghost Stories of an Antiquary by M. R. James. 

Listen to the calming sounds of nature, but look to the sky and beware the The Raven by Edgar Allan Poe and the bat swooping in, searching for your throat in Dracula by Bram Stoker–
Or leave nature behind and enter the world of the supernatural and the undead in The Monkey's Paw by W. W. Jacobs and The Exorcist by William Blatty.
Happy Haunting!
Jill Spreitzer, Librarian Consultant