Research & Information Services
Have you ever noticed those people sitting at the desk with the sign over it that reads "Research & Information Services"? Have you ever noticed that sign? Have you ever wondered why those people are sitting there?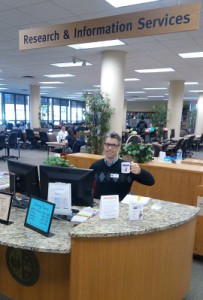 Well, the people sitting at the Research & Information Services desk are faculty librarians and they can help with a lot more than just selling you a scantron, of course we're happy to do that too!
Librarians are research specialists that can assist you with many things including:
Finding print and electronic resources using the library catalog
Locating print resources in the library using the Library of Congress Call number
Accessing and locating articles using the library's research databases (on or off campus!)
Developing a search strategy to quickly get you to the best results
Scheduling a one-on-one research instruction meeting in a specific subject area
Coordinating with faculty to develop class specific instruction session
Maybe most importantly, know that you can always Ask a Librarian, whether in person, by chat, email, or phone. We'll do our best to find the answer to your question.