Political cartoons & commercials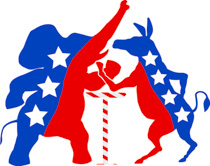 No — don't go away!  You're probably tired of election season already and there's three and a half months to go.
But there are political cartoons and ads online that are interesting without being annoying.
The Living Room Candidate is a free website that has videos of presidential campaign ads from 1952 – 2012.
Curated by the  Museum of the Moving Image  [a topic for another day] the database of videos is searchable by election year, issue,
candidate and key.  In 1964 the Lyndon Johnson campaign produced a TV spot in the election against Barry Goldwater that famously became known as the Daisy ad.   While production looks dated, there's no doubt about it's effectiveness.  And nastiness.  Negative ads are nothing new.
Another timely site from the National Archives has an exhibit on political cartoons called Running for Office.  
A  form of editorial content whether in online news or a newspaper, political cartoons are a serious — albeit funny –  form of commentary; a Pulitzer Prize for editorial cartooning has been awarded since 1922
This collection is from one author, Clifford Berryman who worked from 1898 to 1948.  Political cartoons require some knowledge of the contemporary issues or appreciate what's being made fun of.  These include a brief explanation of what's going on.
A more recent collection can be found at Political Cartoons.com  Searchable by artist and key word this group goes back to 1999.
Remember these are for sale so have fun browsing the collection for free — payment is required to reuse them.