October is Scary Movie Month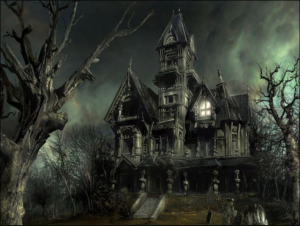 Are you scared of the dark? You never know what could be lurking in the shadows as the days start  getting shorter and the nights start getting longer.  Grab a blanket and turn off the lights and watch one of the many bone chilling movies the library has to offer.  You might have to sleep with one eye open after this!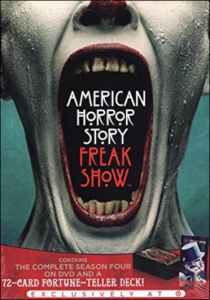 American Horror Story: Freak Show
"Step inside American Horror Story: Freak Show, the terrifyingly twisted reincarnation of TV's most shockingly original series. Jessica Lange leads an extraordinary, award-winning cast that includes Kathy Bates, Angela Bassett, Sarah Paulson and Michael Chiklis. Lange plays Elsa Mars, the proprietor of a troupe of human "curiosities" on a desperate journey of survival in the sleepy hamlet of Jupiter, Florida, in 1952. Her menagerie of performers includes a two-headed, telepathic twin (Paulson), a take-charge bearded lady (Bates), a vulnerable strongman (Chiklis) and his sultry, three-breasted wife (Bassett). But the strange emergence of a dark entity will savagely threaten the lives of townsfolk and freaks alike." (Amazon.com)
Watch the Trailer:   https://www.youtube.com/watch?v=VPTwNuc5b3c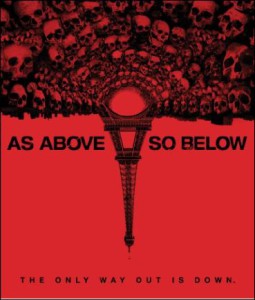 As Above, So Below
"Miles of twisting catacombs lie beneath the streets of Paris, the eternal home to countless souls. When a team of explorers ventures into the uncharted maze of bones, they uncover the secret of what this city of the dead was meant to contain. A journey into madness and terror, it reaches deep into the human psyche to reveal the personal demons that come back to haunt everyone."
Watch the trailer: https://www.youtube.com/watch?v=83PpryYHHeY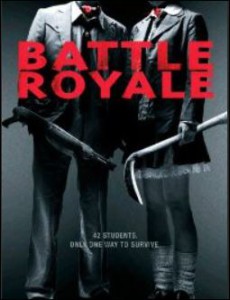 Battle Royale (Batoru Rowaiaru)
"In the near future, the economy has collapsed, unemployment has soared and juvenile crime has exploded. Fearful of their nation's youth, the Japanese government passes The BR Law: Each year, a 9th grade class is sent to a remote island where they will be locked into exploding neck collars, given a random weapon, and forced to hunt and kill each other until there is only one survivor left."
Watch the trailer: https://www.youtube.com/watch?v=hCoPbkvyWEI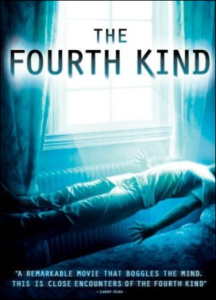 The Fourth Kind
In remote Alaska, citizens have been mysteriously vanishing since the 1960s. Despite multiple FBI investigations, the truth behind the phenomena had never been discovered—until now. While videotaping therapy sessions with traumatized patients, psychologist Dr. Abigail Tyler (Milla Jovovich) unwittingly exposes terrifying revelations of multiple victims whose claims of being visited by alien figures all share disturbingly identical details. Based on actual case studies, The Fourth Kind uses Dr. Tyler's never-before-seen archival footage alongside dramatic reenactments to present the most disturbing evidence ever documented in this provocative thriller critics are calling "terrifyingly real…The most shocking alien abduction movie to date." –Tim Anderson, BLOODY-DISGUSTING.COM
Watch the trailer:  https://www.youtube.com/watch?v=r25ZUxTURis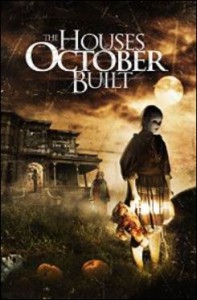 The Houses October Built
"Beneath the fake blood and cheap masks of countless haunted house attractions across the country, there are whispers of truly terrifying alternatives. Looking to find an authentic, blood-curdling good fright for Halloween, five friends set off on a road trip in an RV to track down these underground haunts. Just when their search seems to reach a dead end, strange and disturbing things start happening, and it becomes clear that the haunt has come to them."
Watch the trailer – https://www.youtube.com/watch?v=Yedl4lY9VgM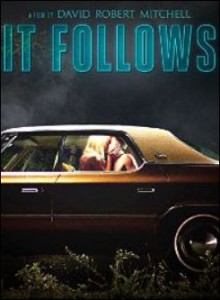 It Follows
"For nineteen-year-old Jay, the fall should be about school, boys and weekends at the lake. Yet, after a seemingly innocent sexual encounter she suddenly finds herself plagued by nightmarish visions; she can't shake the sensation that someone, or something, is following her. As the threat closes in, Jay and her friends must somehow escape the horrors that are only a few steps behind."  (Filmed at UDM)
Watch the trailer:  https://www.youtube.com/watch?v=QX38jXwnRAM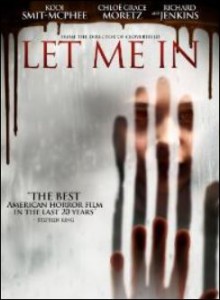 Let Me In
"Abby, an eerily self-possessed young girl, emerges from her heavily curtained apartment only at night and always barefoot, seemingly immune to the bitter winter elements. Owen, an alienated 12-year-old boy, recognizes a fellow outcast and opens up to her, forming a unique bond. But as a string of grisly murders occupy his town, Owen has to confront the reality that this seemingly innocent girl might be hiding an unthinkable secret."
Watch trailer:  https://www.youtube.com/watch?v=reRRAEVHq8E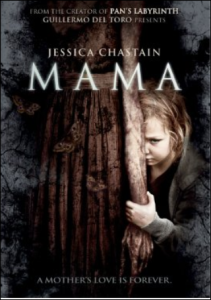 Mama
"A supernatural thriller that tells the haunting tale of two little girls who disappeared into the woods the day that their parents were killed. When they are rescued years later and begin a new life, they find that someone or something still wants to come tuck them in at night." (catalog)
Watch trailer:  https://www.youtube.com/watch?v=GZlY47eCdas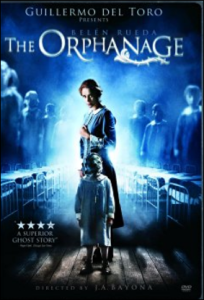 The Orphanage
"Centers on Laura (Belén Rueda) who purchases her beloved childhood orphanage with dreams of restoring and reopening the long abandoned facility as a place for disabled children. Once there, Laura discovers that the new environment awakens her son's imagination, but the ongoing fantasy games he plays with an invisible friend quickly turn into something more disturbing. Upon seeing her family increasingly threatened by the strange occurrences in the house, Laura looks to a group of parapsychologists for help in unraveling the mystery that has taken over the place." (Amazon.com) (in Spanish with English subtitles)
Watch the trailer:   https://www.youtube.com/watch?v=02mbaN7ozJ4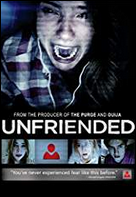 Unfriended
"Unfriended unfolds over a teenager's computer screen as she and her friends are stalked by an unseen figure who seeks vengeance for a shaming video that led a vicious bully to kill herself a year earlier." (Amazon.com)
Watch the trailer:   https://www.youtube.com/watch?v=lRhUId3gtoE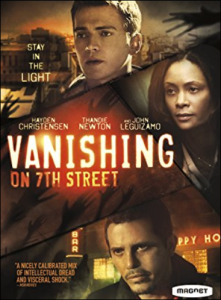 The Vanishing on 7th Street
When an unexplained blackout leaves Detroit in darkness, most of the population vanishes. As the sun rises, a handful of survivors realizes the few light sources are all that protects them from impending terror.
Watch the trailer:   https://www.youtube.com/watch?v=J2ifOpS-v_c

See what other scary movies the library has to offer…if you dare.  Just visit the  library catalog and do a keyword search for -  horror dvd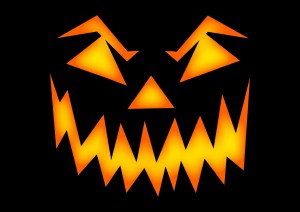 Sweet dreams and Happy Haunting!