Drop In On RefWorks

It's grueling, tedious and time-consuming. I'm referring to typing research papers and getting the in-text citations right and then typing the bibliography at the end with all that confusing formatting. Well, not anymore. UDM Libraries has a tool that makes the formatting of your citations oh so easy and its called RefWorks. This week, Thursday, October 23, Librarian Sue Homant will be offering a drop-in workshop on RefWorks here in the library from 12:45-2:00. RefWorks can be a powerful tool when you are doing a research paper. Here is just a taste of what RefWorks can do.
Using Refworks begins with signing up for a new account. Go to the library portal page research.udmercy.edu. Click on the third tab, Articles, Journals + Databases. Under Find databases by title, you will see the alphabet listed. Select the letter R. RefWorks is second on the list. Click into it and click

.
As you do your research and find articles in the library databases, use the export feature found in most databases to load the citations into your RefWorks account. It is also possible to attach the articles to the citations in RefWorks When you have completed your research, make sure all the citations of the articles you will be using in your paper have been loaded into RefWorks. When you are ready to begin typing your paper, go into your RefWorks account, click on Tools 

and download Write-N-Cite 4.  Upon successful completion of the download, you should see this at the top of the screen in Microsoft Word.

Click on RefWorks then click on Log In and enter your RefWorks account and password. You will also enter UDM's Group Code, which can be obtained from the Research and Information Desk.
Once you have logged in, set your style choice (MLA, APA, etc.)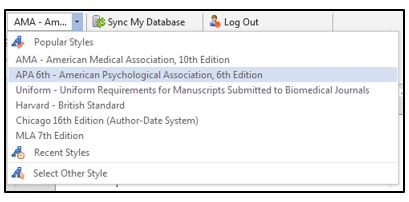 While typing your paper, click on the Insert Citation icon 

  and select a citation each time you want to cite a source within the text of the paper . Continue typing and entering the citations as you go by clicking on the Insert Citation icon. RefWorks will put the citation in the text of the paper in the format style you selected.
When you have finished typing your paper and have entered all the citations within the body of the paper you will be ready for RefWorks to create your bibliography page. Place your cursor where you want the bibliography to begin. Click on Bibliography Options. Then click Insert Bibliography. 

Your bibliography will be created in the format style you selected. What would take you hours to do RefWorks does instantly!
Drop by Thursday and learn how to make citing fast and easy.
Julia Eisenstein, Librarian