The things we are grateful for:
Dean Margaret Auer: I am thankful that students find the library a welcoming environment where they can work in a team or work alone.
Associate Dean Sara Martin: In light of the recent events on University campuses in the U.S.  I'm thankful that I work at an institution that encourages and celebrates diversity and is engaged in Shared Governance.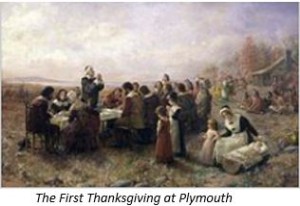 Associate Dean George Libbey: Student organizations who use the lobby of the McNichols Library for fund raisers
Librarian Sue Homant: UDM students who do not hesitate to seek assistance, the  electronic catalog, eBooks, full text scholarly articles, getting to know students in a non-academic setting, such as Gaming Night, IM whereby students may contact a Librarian at the point of need
Librarian Jill Turner: I am thankful for the flexibility and search options that both PubMed and CINAHL provide when searching as compared to just about every other database and that searching by PMID makes finding the full text of articles a bit simpler now. Also getting to work with nursing students and faculty, some of the best people out there. And lastly, as a librarian, I often get to take a lunch break.
Librarian Karl Erickson: I'm grateful for coffee.
Librarian Julia Eisenstein: I'm grateful for the electronic version of Mental Measurement Yearbook.
Librarian Pat Higo: I am grateful for the time and effort by the volunteers, Mary and Byron, to come in each week to help out with the archive projects in Rev. Dowling's Marine Historical Collection.
Librarian Cindy Gillham: We are thankful for our students. We are thankful for our colleagues.
Graphic Designer Linda Papa: I'm thankful for the working relationships I've developed with the people here. This feeling of familial connection is particularly noticeable when anyone retires.  But the energy they contributed to this environment never really fades … and this is just one more thing to be thankful for.