What does it mean to have a meaningful work-life? Is it possible to find meaning in any kind of work? When does work become a calling? Or is a calling something other than work? In the book Callings: The Purpose and Passion of Work, David Isay, the founder of StoryCorps, p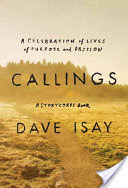 resents numerous stories compiled over the years that get at some of these questions. This is StoryCorps fifth book of compiled interviews based on a theme.
In an interview with Democracy Now Mr. Isay said, "I've always believed that the power of an authentic story, of people talking—StoryCorps is the opposite of reality TV. No one comes to get rich. No one comes to get famous. It's an act of generosity and love. And a story, honestly told, has the ability, I think, to build bridges of understanding between people that's unparalleled." During this same interview several excerpts from StoryCorps Animation were presented and the history of how they were developed was discussed. What becomes clear through both words and images is that the diversity of our stories adds strength to our compassion. By truly listening to these stories we can deepen our commitment to recognize, cherish and honor our shared humanity.