Summer Reading
Need a good book to read on the beach or for your summer get-away?  Try one of these from the library's collection:
She arrived with her name, Trixie. I joked sometimes that it sounded more like a stripper than a dog. But if it sounded more like a stripper than a dog, it sounded more like an elf or a fairy than a stripper. Elves and fairies are magical beings, and so was she. A heartwarming memoir of a very special dog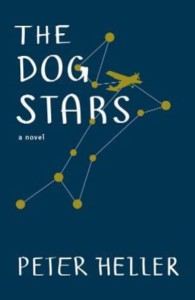 Hig survived the flu that killed everyone he knows. His wife is gone, his friends are dead, he lives in the hangar of a small abandoned airport with his dog, his only neighbor, a gun-toting misanthrope. In his 1956 Cessna, Hig flies the perimeter of the airfield or sneaks off to the mountains to fish and to pretend that things are the way they used to be. But when a random transmission somehow beams through his radio, the voice ignites a hope deep inside him that a better life, something like his old life, exists beyond the airport. Risking everything, he flies without enough fuel to get him home, to a point of no return, as he follows the voice on the radio. But what he encounters and what he must face, in the people he meets, and in himself, is both better and worse than anything he could have hoped for.
Emma Woodhouse arrives home in Norfolk ready to embark on adult life. Not only has her sister, Isabella, been whisked away on a motorcycle up to London, but her astute governess, Miss Taylor is at a loose end, abandoned in the giant family pile, Hartfield, alongside Emma's anxiety-ridden father. Someone is needed to rule the roost and young Emma is more than happy to oblige. But there is only one person who can play with Emma's indestructible confidence, her old friend and inscrutable neighbor George Knightly — this time has Emma finally met her match?
Three very different American women live in the same small expat community in Hong Kong. Mercy, a young Korean American and recent Columbia graduate, is adrift, undone by a terrible incident in her recent past. Hilary, a wealthy housewife, is haunted by her struggle to have a child, something she believes could save her foundering marriage. Meanwhile, Margaret, once a happily married mother of three, questions her maternal identity in the wake of a shattering loss. Their lives collide in ways that have irreversible consequences for them all.
The story of a small town on Lake Michigan that gets worldwide attention when its citizens start receiving phone calls from the afterlife. Is it the greatest miracle ever or a massive hoax? Sully Harding, a grief-stricken single father, is determined to find out.
Rachel takes the same commuter train every morning, flashing past a stretch of cozy suburban homes, and stopping at the signal that allows her to daily watch the same couple breakfasting on their deck. Their life, as she sees it, is perfect … until she sees something shocking. It's only a minute until the train moves on, but now everything is changed. Rachel goes to the police, and becomes inextricably entwined in the lives of everyone involved. Has she done more harm than good?
Six days ago, astronaut Mark Watney became one of the first people to walk on Mars. Now, he's sure he'll be the first person to die there. After a dust storm nearly kills him and forces his crew to evacuate while thinking him dead, Mark finds himself stranded and completely alone with no way to even signal Earth that he's alive — and even if he could get word out, his supplies would be gone long before a rescue could arrive. Chances are, though, he won't have time to starve to death. The damaged machinery, unforgiving environment, or plain-old 'human error' are much more likely to kill him first. But Mark isn't ready to give up yet. Drawing on his ingenuity, his engineering skills — and a relentless, dogged refusal to quit — he steadfastly confronts one seemingly insurmountable obstacle after the next. Will his resourcefulness be enough to overcome the impossible odds against him?
"An audacious, darkly glittering novel about art, fame, and ambition set in the eerie days of civilization's collapse, from the author of three highly acclaimed previous novels. One snowy night a famous Hollywood actor slumps over and dies onstage during a production of King Lear. Hours later, the world as we know it begins to dissolve. Moving back and forth in time-from the actor's early days as a film star to fifteen years in the future, when a theater troupe known as the Traveling Symphony roams the wasteland of what remains-this suspenseful, elegiac, spellbinding novel charts the strange twists of fate that connect five people: the actor, the man who tried to save him, the actor's first wife, his oldest friend, and a young actress with the Traveling Symphony, caught in the cross hairs of a dangerous self-proclaimed prophet. Sometimes terrifying, sometimes tender, Station Eleven tells a story about the relationships that sustain us, the ephemeral nature of fame, and the beauty of the world as we know it"–
Of all the glamorous stars of New York high society, none blazes brighter than Babe Paley. Her flawless face regularly graces the pages of Vogue, and she is celebrated and adored for her ineffable style and exquisite taste, especially among her friends — the alluring socialites Slim Keith, C. Z. Guest, Gloria Guinness, and Pamela Churchill. By all appearances, Babe has it all: money, beauty, glamour, jewels, influential friends, a prestigious husband, and gorgeous homes. But beneath this elegantly composed exterior dwells a passionate woman — a woman desperately longing for true love and connection. Enter Truman Capote. This diminutive golden-haired genius with a larger-than-life personality explodes onto the scene, setting Babe and her circle of Swans aflutter. Through Babe, Truman gains an unlikely entrée into the enviable lives of Manhattan's elite, along with unparalleled access to the scandal and gossip of Babe's powerful circle. Sure of the loyalty of the man she calls "True Heart," Babe never imagines the destruction Truman will leave in his wake. But once a storyteller, always a storyteller — even when the stories aren't his to tell.
A powerful, timely debut, The Turner House marks a major new contribution to the story of the American family. The Turners have lived on Yarrow Street for over fifty years. Their house has seen thirteen children grown and gone–and some returned; it has seen the arrival of grandchildren, the fall of Detroit's East Side, and the loss of a father. The house still stands despite abandoned lots, an embattled city, and the inevitable shift outward to the suburbs. But now, as ailing matriarch Viola finds herself forced to leave her home and move in with her eldest son, the family discovers that the house is worth just a tenth of its mortgage. The Turner children are called home to decide its fate and to reckon with how each of their pasts haunts–and shapes–their family's future. Already praised by Ayana Mathis as "utterly moving" and "un-putdownable," The Turner House brings us a colorful, complicated brood full of love and pride, sacrifice and unlikely inheritances. It's a striking examination of the price we pay for our dreams and futures, and the ways in which our families bring us home"