Oxford Islamic Studies Online

The first stop for information and context on Islam has to be
Oxford Islamic Studies Online
. This database features authoritative reference content and scholarly commentary on Islamic history, the faith and concepts of Islam, the people, tenets and practices, politics, culture, and more.
Oxford Islamic Studies Online
includes information from such titles as
The Oxford Handbook of Islam and Politics
,
The Oxford Encyclopedia of the Modern Islamic World
,
The Oxford Dictionary of Islam
, and
The Grove Encyclopedia of Islamic Art & Architecture
.
Oxford Islamic Studies Online encompasses over 5000 A-Z reference entries, chapters from scholarly and introductory works, Qur'anic materials, primary sources, biographies, images, maps, and timelines of Islamic and world events.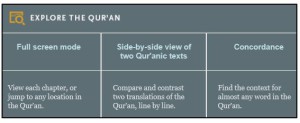 To facilitate your research on the Qu'ran, the database provides side by side translations and a concordance.

The database has a handy converter tool that converts any western date to the corresponding date on the Islamic calendar.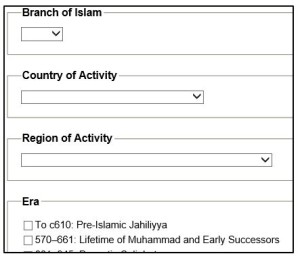 The advanced search feature allows you to limit your search to such facets as branch of Islam, country, region or historical era.

To access
Oxford Islamic Studies Online
, go to the library portal page,
research.udmercy.edu
. Click on the third tab, 
Article, Journals + Databases
. Under
Find databases by title
, select the letter
O
. 
Oxford Islamic Studies Online
is the fourth database.