Mental Measurements Yearbook and Tests in Print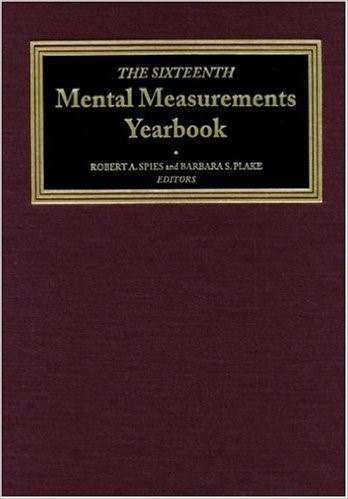 Produced by the Buros Center for Testing, an independent non-profit organization within the University of Nebraska, the Mental Measurements Yearbook (MMY) provides users with a comprehensive guide to testing instruments. The current edition, the 19th, contains a bibliography of 183 available tests and 350 critical test reviews. The MMY contains information essential for a complete evaluation of test products within such diverse areas as psychology, education, business, and leadership. All MMY entries contain descriptive information (e.g., test purpose, publisher, pricing), references and critical review(s) written by leading content area experts. The MMY does not contain the full-text of the tests but reviews of the tests only.

Also produced by the Buros Center, Tests in Print (TIP) serves as a comprehensive bibliography to all known commercially available tests and serves as an index to all editions of the MMY. TIP provides vital information to users including test purpose, test publisher, in-print status, price, test acronym, intended test population, administration times, publication date(s), and test author(s). TIP is a comprehensive volume describing every test that is currently available for purchase. Not all tests and measures are reviewed in MMY and there are somewhat firm requirements that tests must meet to be featured in MMY. Therefore, TIP is necessary to identify and locate tests which are available and in print, but not widely popular or used enough to be featured in MMY.
Why use MMY/TIP? Maybe you are beginning to think about your Masters thesis or dissertation and you want to know what tests are available. Maybe you need information on a particular test to fulfill the requirements of an assignment. Maybe you read a scholarly article that used a particular test and you want more information about it.
MMY with TIP is accessible at UDM through Ebsco. Subscribers are entitled access to the MMY content included in Volume 9, 1985, to     the current volume, volume 19 and the TIP content included in the current volume, Volume VIII. MMY volumes 1-8, 1938-1978, and TIP volumes I – VII are available in print at the McNichols Campus Library.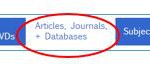 To access MMY and TIP, go to the library portal page, 
research.udmercy.edu
. Click on the third tab,  
Article, Journals + Databases
. Under 
Find databases by title
, select the letter
 M
. Scroll down until you see 
Mental Measurements Yearbook with Tests in Print (Ebsco)
 (about 2/3 of the way down the page). You may also access MMY/TIP through the
Tests and Measures
tab of the
Psychology LibGuide
. Once you have accessed the database, and begin your searches, note that you will be searching both MMY and TIP at the same time. You do not need to select one or the other.

When you know the exact name of the test you are looking for, type in the name in the search box and select the field TI Test Name. Click on search. Here's a tip: if you click on HTML Full Text, all you will get is a review (or reviews) of the test. If you click on the title of the test, you will get the review(s), and the test entry data that TIP provides (e.g., authorship, test category, pricing information, etc.) If you are not sure of the exact name of the test, but you know part of the name, type in what you know and select the TI Test Name field.

Maybe you want to see what tests are available for a specific disorder. For example, depression. Type that into the search box and select the PU Purpose field.
Perhaps you don't know the name of a specific test and you are not researching a particular disorder. Each test is classified into a searchable category. The categories are:
Achievement
Adjustment/adaptive functioning
Alcohol and substance abuse
Behavior assessment
Blind
Business education and relationships
Criminal justice and forensic
Developmental
Driving and safety
Education
English and language
Family and relationships
Fine arts
Foreign languages
General miscellaneous
Handwriting
Health and physical education
Intelligence and general aptitude
Learning disabilities
Mathematics
Neuropsychological
Personality
Philosophy and religion
Psychology
Reading
Record and report forms
Science
Sensory-motor
Social studies
Socio-economic status
Speech and hearing
Test programs
Vocations


So for example, if you want to see what tests are categorized under personality, type in personality and select SU Test Category as the search field.
There may be a number of reasons why you can't find a particular test in MMY/TIP. To be included in the MMY, a test must be commercially available, be published in the English language, and be new or revised since it last appeared in the series. An older test, no longer in publication, may no longer be indexed in TIP.
Whether you are working on your Master's or dissertation, fulfilling an assignment or just want to learn more about a particular test, MMY/TIP is the perfect resource.
As always, if you have any questions, contact a librarian.